Kate's Race for Hope 2015 : Time to Sign Up!!
Alright Supporters, it is that time of year again!  Kate's Race for Hope will be hosted at McAlpine Creek Park on Saturday September 26, 2015 at 9:00am.
This Race is a Walk/Run so feel free for everyone to join and to support your local ministry!  We will once again need volunteers who want to help with registration booths, water tables and setting up the event so if interested be sure to reach out to our office.  You can also inquire by email at This e-mail address is being protected from spambots. You need JavaScript enabled to view it. .
Kate's Race is in honor Kate Shultz who had a vision of having an annual race to support Hope Cancer.  She wanted to see continued support for a ministry with spiritual emphasis that offered real and eternal hope - not just cancer research.  She died of osteosarcoma before we had our first race.  Hope Cancer continues this race to honor the memory of Kate as a symbol of all those who need to have Hope!  Join us for another year to honor the memory of Kate and to support the ministry work she inspired.
Want to Register Online?  We can do that! Click on the butterfly to go to our registration page!
Would you rather mail in your entry by mail with check?  No problem!  You can click HERE to print our registration form, fill it out and mail entry with payment to:
Hope Cancer Ministries
PO Box 19967
Charlotte, NC 28219
We Look forward to seeing you at the RACE!
Who We Are?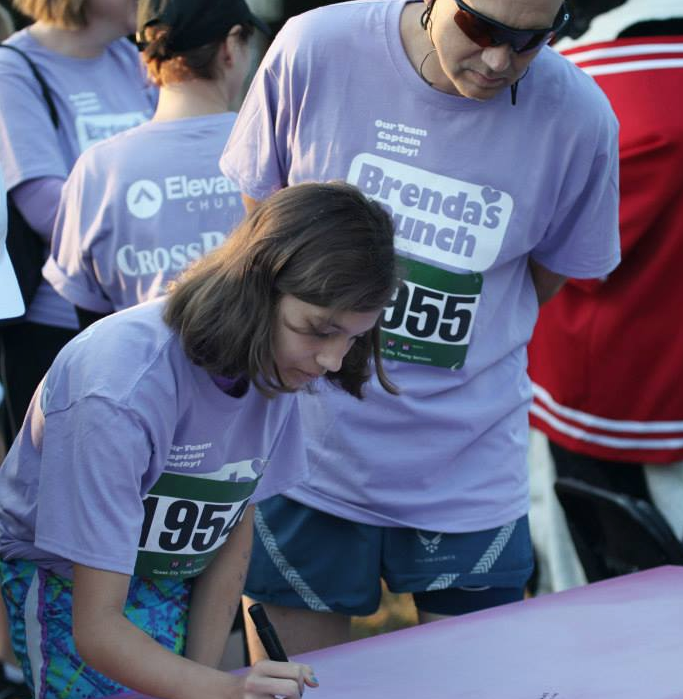 Hope Cancer Ministries (HCM) is a faith-based ministry, which interacts with individuals, churches and other organizations to offer spiritual and emotional support along with practical ministry in Jesus' name to cancer patients, caregivers and those who are grieving. We are a non-profit corporation (501(c)3 Tax Exempt Organization) and we are primarily supported by donations from individuals, organizations, and corporations. Client services are provided free of charge and regardless of faith or religious affiliation. Our primary directive is simple.  It is to show our love of Jesus Christ by serving those families affected by the devastating diagnosis of cancer.
Hope Moment
Hope Cancer is launching the Hope Moment short video series for 2015! Every month we will be featuring a client or volunteer and having them share their experiences with us.  Here is our first Hope Moment!